The intention behind this BeReal case study is solely for educational purposes.
It's important to stay informed of trends and learn from the ups and downs of startups that showed promise but ultimately failed. Although the future of BeReal is uncertain, and I sincerely hope they find a way, the outlook doesn't seem positive at the moment.
Are there options to save BeReal?
To keep the optimism, there are still ways to keep the company afloat, such as the steps being taken by Clubhouse, which faced a decline due to the absence of a monetization strategy. Currently, BeReal seems more like a feature to be monetized or sold to other platforms rather than a standalone app. I came across an interesting suggestion on LinkedIn that BeReal could switch to the adult market.
Or there are testimonials from parents who say that BeREal is good for kids as a Snapchat alternative.
This is a real testimonial from common sense media:
Promotes Being Real
"This seems to be a good alternative for kids who can't have Snapchat, like my daughter. The app prompts everyone to post a picture, once a day, to show their friends what they are doing at that time. They can only see friends posts and vice versa. It takes a pic of the person and of what is in front of them.

There are no filters and it shows how many times they took a picture before they landed on the one they posted. The purpose is to show you truly what your friends are doing at that moment, not edited pictures of perfection. I like the message of this app, which is to stop faking your life and be real.

The downside I see right now with it, is the same reason I won't let my daughter have Instagram. If a bunch of kids are together and your child isn't included in the group at the moment the notification comes in to take the pic, they can feel left out or have FOMO. But they would have to catch them at that moment in time, not something that can be taken and posted later.

All social media can have the potential to cause hurt feelings or bullying. But so far, this app has been fun for my daughter to see what her friends are up to in that moment, not staged perfect photos. This app is the most popular one amongst the middle schoolers at my daughter's school."

Kcamsha
---
The decision that founder Alexis Barreyat will make remains a mystery.
Let's examine what happened with BeReal and familiarize those who may not know about the app with what it stands for.
Unpacking the Story of BeReal: A Startup in the Spotlight
BeReal is a relatively new startup generating buzz in the tech industry. The company has developed a social media app that aims to provide users with a more authentic and real experience instead of the curated and filtered content often found on other platforms. BeReal allows users to share raw, unfiltered moments from their daily lives and connect with others who are doing the same.
The BeReal Case Study examines what happened with the app and how it aimed to create a more authentic online social experience.
Since its launch, the app has gained a small but dedicated following, and many users appreciate the raw and real atmosphere that it provides. The downloads increased from 233 in January 2020 to more than 934k in Q4 2022, but Q4 was also the period when downloads started falling.
The BeReal Case Study also highlights that the app has caught the attention of big-name investors and gained mainstream American culture recognition with a skit on Saturday Night Live.
What Sifted Wrote About This?
On February 8th, Sifted wrote this interesting article, Can BeReal build on its buzz in 2023?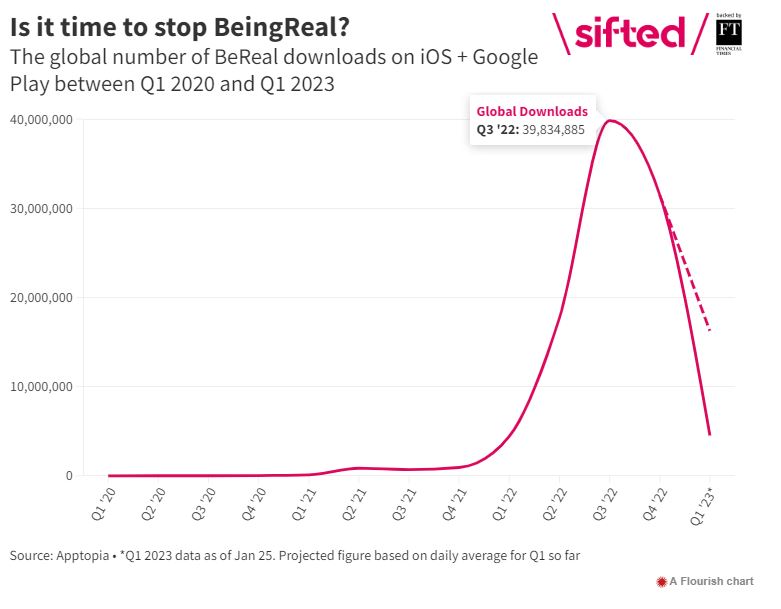 To summarise:
1. Alexis Barreyat launched BeReal, an anti-influencer photo-sharing app, in 2019 to create a more authentic online social experience.
2. The app experienced strong growth, with worldwide downloads increasing from 233 in January 2020 to more than 934k in Q4 2022.
3. BeReal caught the attention of big-name investors and gained mainstream American culture recognition with a skit on Saturday Night Live.
4. However, downloads fell in Q4 2022 and user churn and daily open rates remain high.
5. BeReal has reacted to this spotlight by avoiding media attention, but analysts warn that it needs to monetize the platform and offer features and support to marketers.
6. The app has been criticized for being prone to glitches and having an aesthetically unappealing interface.
7. BeReal has not confirmed any investment reports and does not share its numbers.
BeReal will be irrelevant in 6 months
Last year, Niusha, a Medium blogger wrote a piece with the above title.
The main points:
– BeReal is a French app that was founded in 2020 and is being hyped as a counter-movement to Instagram.
– As platforms become more popular, users become more selective about what they post, leading to a plateau of aestheticism.
– Monetization and lack of defensibility are hurdles for BeReal to overcome.
– Previous attempts at creating a 'real' social media platform, such as Vero, have failed due to a lack of user interest.
– BeReal will become irrelevant by 2023.
Conclusions
For now, the story of the BeReal case study serves as a valuable case study for startup founders, highlighting the importance of monetization strategies and the challenges that can arise for new companies in the tech industry. We are wishing inspired actions and a long history for BeReal from now on.
---
Cristina Imre – The Founder & Executive Coach Behind Those Business SuccessessThat Lead Our World Into The Future!