Value-Driven Entrepreneurs
You're one of a kind. Someone who dreams big. Very big. It's in your blood.
Not everyone is an entrepreneur. There's some "madness" involved. A vision of a future where things look different. Intense desires, many times hidden.
There's always the next level for you to reach. Another dream to pursue. Another company to create or invest in.
"Laughter is timeless, imagination has no age, dreams are forever. It's kind of fun to do the impossible. All our dreams can come true if we have the courage to pursue them."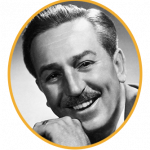 Walt Disney
___________
Disney understood the quantum model of reality long before science caught up. Many techniques and methods that Disney left to the world of business live on and thrive today. Not many know the powerful research infrastructure (legacy) Disney left behind. He built his empire pieces on the right vibrational frequencies starting with how to create the most complex, unique characters without flaws. 
As with many value-driven entrepreneurs or legacy people throughout history, the quantum model was always there, but many people discovered and practiced it without understanding how it works. Unconscious competence. It worked.  
There is actually not a single person on this Earth who is truly successful and fulfilled without consciously or unconsciously utilizing quantum fields, epigenetics, the law of attraction, and vibration. 
LET'S GUIDE YOU TO THE NEXT LEVEL. THERE'S ALWAYS ONE.

Understand your current reality and where you are.
Clear your past, bad habits, and limiting beliefs that don't allow you to enjoy life fully. 
Understand how things work in the energy world.
Transform your present and become a conscious creator of your future by living in the now.  
Become a master of clarity and foresight. 
Learn how to be guided by your intuition.
Become the leader you never thought you can be.
Sharpen your problem-solving skills.
Understand people from a deep level where you can influence the outcomes.
Design the desired outcomes for your business and life then enjoy the unfolding. 
Influence and communicate from the background by guiding results.
The Story of a Founder Who Almost Lost It All
"I will start by saying that I was fascinated from the beginning to the end by your powerful personality and the extraordinary talent to verbally and non-verbally transmit states and experiences which I could never imagine, much less to be aware of. During your courses, I was waiting to find answers to some questions I never had before meeting you. And something wonderful happened: for some questions, I found the answers myself; for others, I've lost the need, they became irrelevant. Of course, there are many more to come, but I became aware of the fact that most of the solutions are inside us expecting to be found. At the right moment. I have learned so many things from you. I understood everything I could from what you've transmitted (this means I am aware I did not catch it all) and I had no difficulties to understand your teaching. This is amazing, and I say that because we have a language difference in the way of thinking, because of the specifics of our professions. And I was prepared for the worse, to be difficult and hard to understand. But you knew how to make yourself understood. Thank you for everything you've done possible to happen with me. Now and in the future. And for sure I will ask for advice any time I'll need it."
"If more visionary, influential, value-driven entrepreneurs would use the quantum model of reality consciously and collectively, our most pressing global problems would be solved in a matter of years at most." 
Cristina Imre